Whether you start your day with it, have it as a pick-me-up, or as a late-night snack, nasi lemak is unarguably every Malaysian's favourite dish. In fact, we love it so much, that we even created special versions of it over the years — like a nasi lemak burger or even as an ice cream flavour, for instance. We Malaysians are creative, okay!
Well, if you absolutely can't live without Nasi Lemak, here are 6 nasi lemak food spots in the Klang Valley you must try at least once.
1. Nasi Lemak Saleha 
Nasi Lemak Saleha is a popular go-to spot in the Klang Valley for foodies and nasi lemak lovers alike. We absolutely love how the belacan brought out the unique flavours of the chicken rendang while adding a new dimension of flavours to the santan infused rice. If you love Nasi Lemak, this is one spot worthy to be on your bucket list.
What you should know:
The family business began over 30 years ago.
Puan Saleha, the owner of the Sri Ramapai outlet,  shares that she doesn't skimp on any ingredients, unlike most sellers in an attempt to save cost.
Uniquely, the belacan (shrimp paste) used to prepare the sambal is brought in all the way from Penang.
Must-tries include their pulut kuning (sticky yellow rice) and signature chicken rendang. No, it's not crispy.
Location 1: No. 8, Jln Seri Rejang 5, Taman Sri Rampai, Kuala Lumpur, Federal Territory of Kuala Lumpur
Location 2: No. 3, Jalan Pandan Prima 1, Ampang, Selangor (beside Tesco Ampang).
Operating hours: 6.30am -12am.
2. Nasi Lemak Angah

Source: nasilemakangah
Based in Sentul, KL, Nasi Lemak Angah was founded in 2009 by Fadly Fuad (a.k.a. Angah) and his wife Rasida Khalid, both of whom come from a family of cooks. If you're one who loves having your nasi lemak in the traditionally Malaysian bungkus way, Nasi Lemak Angah will leave you in awe.
What to expect:
The nasi lemak is based on a family recipe that has been passed down from one generation to another.
Each packet of nasi lemak is meticulously packed featuring a decadent spread of ikan bilis, telur, kacang, cucumber and loads of spicy sambal.
Pandan juice is added to the rice during the cooking process giving the nasi an aromatic smell and rich flavour.
Pair it with their signature ayam sambal which is made up of mainly curry powder and dried chillies among other ingredients. The dish was inspired by Fadly's mum who used to make it for the family.
Address: Pasar Batu 2 1/2 Ipoh, Jalan Sultan Azlan Shah, Sentul, 51200 Kuala Lumpur, Federal Territory of Kuala Lumpur.
Operating hours: 6am – 2pm.
3. Warung Nasi Lemak Pak Ayob
Some of you may think that Shah Alam is best known for their roundabouts and nothing else. To be fair, they do have loads of delicious food spots, okay? We personally tried it and trust us when we say that this is one nasi lemak that's out to grab your hearts and tummies.
Here's why you should:
Many patrons chimed how the rice is fragrant and rich in flavour.
It's a popular breakfast spot among the locals so expect a morning crowd.
A range of side dishes to choose from including sambal sotong, fried chicken, ayam masak merah, paru (beef lungs), and many others.
They even sell other typical Malaysian dishes such as roti canai which is widely praised for its crispy and buttery texture.
Address: 31, Jalan Singa G 20/G, Seksyen 20, Shah Alam, Selangor
Operating hours: 6.30am – 12pm , 6pm – 12am.
4. Nasi Lemak Sambal Warisan Opah USJ 9
If you're a #budaksubang and looking for a late-night hangout spot to satisfy your nasi lemak cravings, then Nasi Lemak Opah is just the place! Having the perfect balance of sweetness and spiciness, the sambal is without a doubt the star of the dish and is a natural crowd-puller.
What to expect:
A packet only costs RM1!
Plenty of side dishes for you to choose from to complete your meal.
Aside from nasi lemak, they even sell popular Malaysian street food snacks such as satay.
Address: 7, Jalan USJ 9/5p, Subang Business Centre, 47620 Subang Jaya, Selangor.
Operating hours: 5pm – 5am.
5. Nasi Lemak Tanglin 
With a recipe dating back all the way to 1948, Nasi Lemak Tanglin offers not only a delicious plate of nasi lemak but a tasteful throwback to the typical Malaysian dining experience in the good old days.
What to expect:
The modest stall is situated in a food court where patrons dine under the shade of a tree.
Busker groups perform on weekends belting hits from the 60s.
Plenty of side dishes to choose from including, sotong sambal, ayam rendang, crispy fried chicken, begedil (potato patty), and many others.
Many patrons chimed how the sambal is rather mild with a hint of sweetness, making it perfect for those who can't palate spicy food.
Address: Tasik Perdana, 50480 Kuala Lumpur, Wilayah Persekutuan Kuala Lumpur, Malaysia.
Operating hours: 7am – 1pm
6. Nasi Lemak McD
That's right! If you didn't know already, McDonald's has its own special edition of everyone's favourite dish and it's 100% authentically Malaysian!
With its fragrant coconut rice, crispy anchovies, and delicious spicy sambal, we were pleasantly surprised by how it was comparable to all the other popular nasi lemak spots on this list!
And if you think the sambal is legit, the pungent aroma of the santan in the nasi will blow you away. Couple that with the oh-so-best Ayam Goreng McD (you know this is the best ayam goreng in town), you know you're having a plate of nasi lemak ready to rival all the other nasi lemak places you know and love!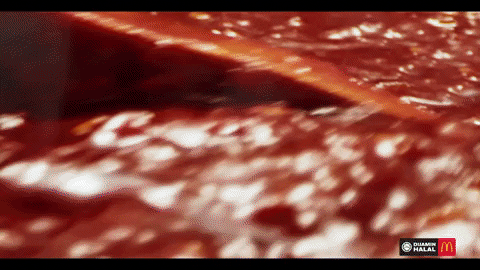 Awesome right?!  😉
And the best part is, it's conveniently available 24 hours and for delivery too, so rest assured you can satisfy your cravings whenever they kick in 😉
Knowing the love of Malaysians for Nasi Lemak, McDonald's Malaysia has kickstarted an initiative to start a petition in making Nasi Lemak acknowledged as the national dish for Malaysia, and they are targeting to have 1 million of Malaysians to sign on and make our voices heard!
More information on the Nasi Lemak McD can be found here.
Have you visited all of these nasi lemak spots? What are some of your personal favourite nasi lemak food spots?
Happy feasting, Malaysians!